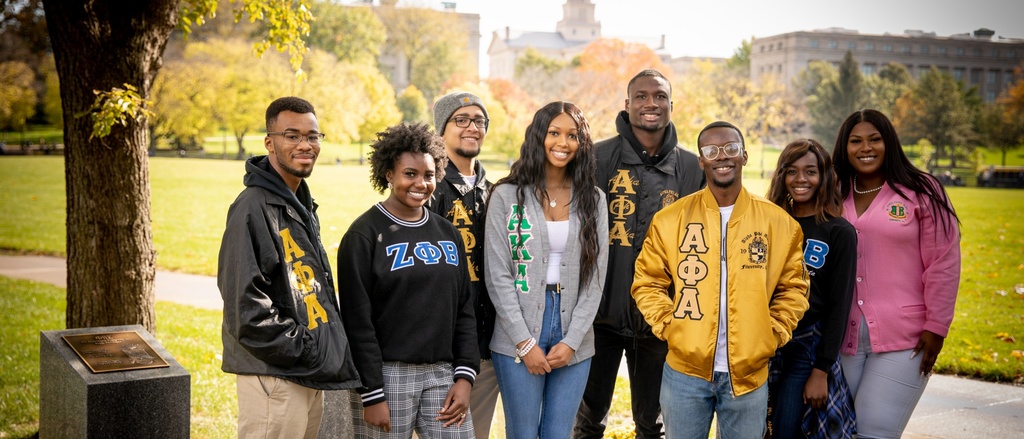 National Pan-Hellenic Council Intake
Table of contents
Greetings Interests! If you're looking for more information on how to potentially join an NPHC Organization then you found the right spot!
Each NPHC Fraternity and sorority brings in new members based on their chapter schedule and their need for chapter growth through a process called Membership Intake. When organizations are looking to conduct membership intake, many of them will host an informational meeting in which criteria for membership is explained. Such meetings are usually publicized via flyers on campus or via the chapters social media page.
As a council, we strongly recommend that you do your research on any organization that interests you; understanding their values, and begin getting familiar with their unique, rich histories. In the event that one is interested in joining a NPHC fraternity or sorority, one is strongly encouraged to show interest by attending chapter programs and events and getting to know members of that organization.
In the event that one is interested in joining a NPHC fraternity or sorority, one is strongly encouraged to show interest by attending chapter programs and events and getting to know members of that organization. We recognize that the effects of COVID-19 may make interactions difficult this semester. Therefore, we strongly encourage you to reach out to an organization presidents and find some time to connect one on one virtually or in-person, while following all CDC and University health and safety guidelines. 
Below you will be able to find plenty of information to get an idea of our various orgs, see what frequently asked questions (FAQ) we typically receive from interests, and additional ways to get involved around campus!
As a council we want to be a resource in helping you find your organization! Please don't hesitate to reach out via email (gc-nphc-president@uiowa.edu) if you have any questions.
For more information or just to stay updated on NPHC events on campus, check out our Instagram.
About
Want to learn more general information and history about the National Pan-Hellenic Council? Click here!
FAQs
The best way to express interest in joining an NPHC organization is by attending chapter programs, events, and community service projects. Each organization/chapter host a variety of educational, social, and philanthropic events on and off campus throughout the year, and by showing up and participating, you are letting them know you are interested in their organization. In addition, some organizations (not all) have interest/informational meetings, that allows you to gain more knowledge about their organization/chapter, and express interest in their fraternity or sorority.
Being a legacy of any Greek organization does not automatically guarantee membership in any organization. Some organizations have special sections on membership intake paperwork where you can indicate whether you are a legacy or not, while others do not have policies regarding legacies. Often, it is advised to proceed through programs and interest meetings/rush without many members knowing about your legacy status. Remember that discretion is important with NPHC intake, so please exercise that concept in multiple areas, including sharing information about legacy status.
Like many organizations on campus, you get what you put into it. Depending on how involved you would like to be with an NPHC organization is up to you. Our NPHC council, is small, so participation from each organization is more needed than other Greek councils on campus. It is always important to keep in mind why you joined in the first place, and hopefully it was to make a difference on our campus while representing your organization in a good manner. So, it would be important to dedicate as much time as you can evenly between all members that would allow sustainability and visibility of your organization.
On our campus, NPHC organizations are not allowed to have houses. Many organizations run their programming through the Afro-House on the west side of campus or utilize the Divine Nine room within the IMU. Although, we do not live together, there are many chances to build relationships with members of each organization.
There can be a lot of personal and professional development built into being in an NPHC organization that will benefit you beyond your undergraduate years. From creating a network with alumni/graduate members to attending conferences that allow you to build professional social skills. There are many leadership opportunities within each organization that give you the opportunity to practice skills needed for the path you choose after college and allow you to have the personal experiences that allow for personal reflection.
Each organization has a specific semester hour requirement that can range from 12-30 semester hours. With that being said, many people join after their first year of college, but depending on what organization interest you, there is the ability to join your second semester of your first year.
The National Pan-Hellenic Council host a celebratory event in which individuals who have become members of their organization present themselves to the community. New member presentations happen at the end of a chapter's intake process and include new members sharing information about the organization they joined and celebrating their "reveal" as members of their organization with other fraternities and sororities.
It depends on what you are looking for. You want to join an organization that will help you grow and help you reach your current and future goals as well as enhance your college career. You want to look for an organization where you can see yourself in and where you fit in best. It is important to look for an organization that aligns with your vision and that helps your reach your full potential. It is very important to do your research on all organizations that interest you to get a feel of which organization is best for you.
Get to know our council co-presidents:
There are currently no results to display.