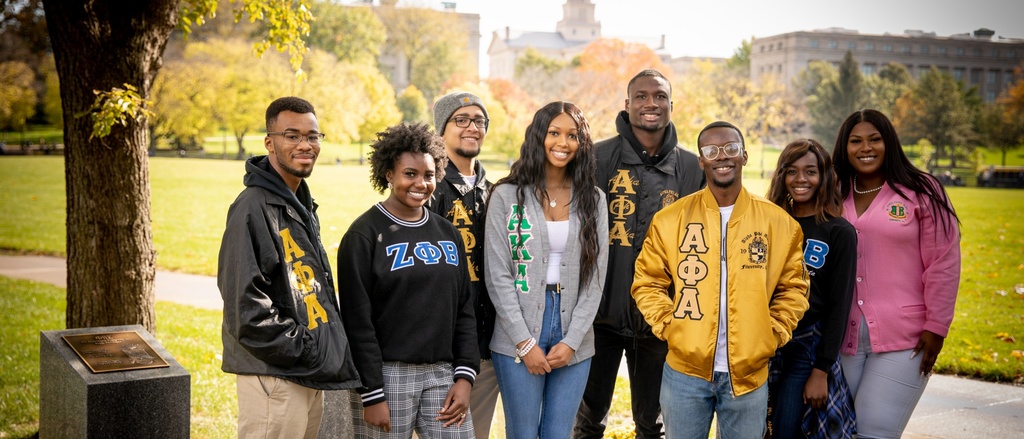 National Pan-Hellenic Council
The history of our community
African American Greek-letter organizations have a long and rich history both nationally and locally. The first black fraternity, Alpha Phi Alpha Fraternity Inc, was founded in 1906 at Cornell University in Ithaca, New York. However, at the University of Iowa, the first of the historic African American organizations to be established locally was Kappa Alpha Psi Fraternity, Inc.
Kappa Alpha Psi remained the only African American fraternal organization at Iowa until 1919. In that year, eight women formed a local chapter of Delta Sigma Theta Sorority, Inc. Only two more black fraternity and sorority chapters were formed at the University of Iowa before 1950: Alpha Phi Alpha Fraternity (1922) and Alpha Kappa Alpha Sorority (1949). These organizations provided a forum in which African American students engaged in the current discourse and built leadership skills that would serve them upon graduation. 
In the early years, both Kappa Alpha Psi and Alpha Phi Alpha operated houses. In 1933, ten students lived in the Kappa House and fifteen lived in the Alpha House. Members of Delta Sigma Theta resided in the Federation Home at 942 Iowa Avenue. The other organizations from Iowa's campus were founded as follows: Omega Psi Phi Fraternity, Inc. (1975); Phi Beta Sigma Fraternity, Inc. (1979); Zeta Phi Beta Sorority, Inc. (1980); and Sigma Gamma Rho Sorority, Inc. (1983).

The Divine 9
The University of Iowa is home to 5 of the 9 historically African American fraternities and sororities:
Charter dates:
Gamma Chapter of Kappa Alpha Psi Fraternity Incorporated: Chartered March 7th 1914
Delta Chapter of Delta Sigma Theta Sorority Incorporated: Chartered April 4th, 1919
Alpha Theta Chapter of Alpha Phi Alpha Fraternity Incorporated: Chartered March 11th 1922
Epsilon Theta Chapter of Alpha Kappa Alpha Sorority Incorporated: chartered May 10th, 1969 
Kappa Psi Chapter of Phi Beta Sigma Fraternity Incorporated: Chartered May 5th, 1979
Pi Kappa Chapter of Zeta Phi Beta Sorority Incorporated: Chartered December 2nd, 1980 
NPHC events and programs
NPHC Yard Show
The National Pan-Hellenic Council hosts the NPHC Yard Show every fall semester as part of OnIowa!. The Yard Show features members of our 5 NPHC organizations in performances that serve as both an expressive art performance and a ritual of group identity that features songs, chants, and symbols unique to each respective organization. The show, which is one of the most anticipated events of our community, serves as a great time to watch our Greeks in action.
Meet the Greeks
During Meet the Greeks, NPHC fraternities and sororities share information about their organization with prospective/ interested student. This is a great time to asked questions about Greek Life in general and learn about the Divine 9!
NPHC Community Service
The fraternities and sororities of the National Pan-Hellenic Council have a rich and strong tradition of providing service to the campus and the Iowa City community. We deeply commit ourselves to improving and bettering the lives of those in need. Some of our individual organization philanthropies include, but aren't limited to, the March of Dimes, Ronald McDonald House, Sleep Out for the Homeless, Educational Advancement Foundation, and the Youth Mentor Program.
Get to know our council Co-Presidents: