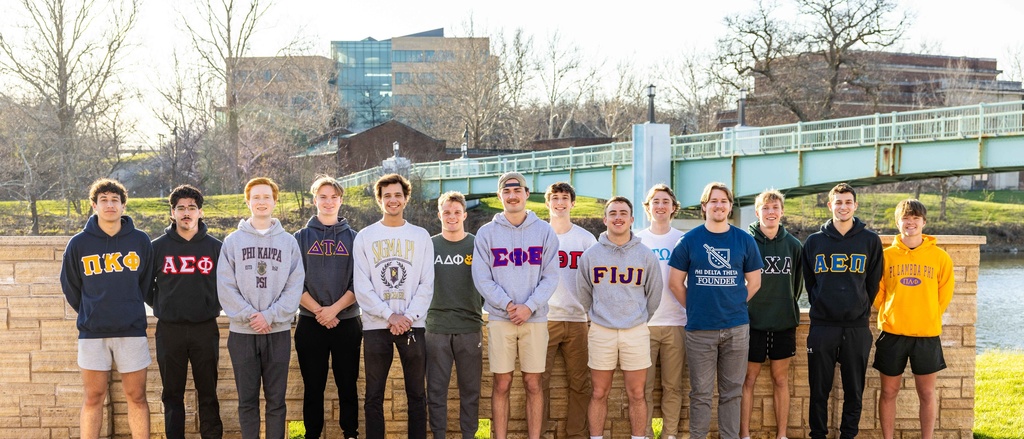 Interfraternity Council Recruitment
FAQs
Q: ​How do I find the right chapter?  
A:​ We all recommend that the best way to find the right fit is to talk to as many people as possible early on so you can narrow them down to your favorites closer to the end of recruitment.  Ask yourself who you are and who you want to be and find the chapter that will help you in that endeavor. We have 17 chapters and there is a place for you!
Q: ​What if I change my mind during recruitment and decide Fraternity Life isn't for me?  
A: ​No worries, we all understand that Fraternity Life isn't for everyone. You are more than welcome to drop out of the recruitment process anytime. We do hope you hold out though-- there are so many things Fraternity Life has to offer when you give it a chance. If you are unsure if this semester is right for you, then you can always end up going out for Spring Recruitment.
Q: ​What is the best Fraternity?  
A: ​Obviously, most people will talk about their own chapter first and why they are different. But we truthfully don't have a perfect chapter on campus, that is why we have 17 chapters. We are all different and unique in our own ways with different focuses, philanthropies, majors, backgrounds, etc.  

Q: ​Do you guys haze? 
A: ​We have an anti-hazing policy in place here at the University and take hazing seriously. Furthermore, we participate in multiple initiatives to stop hazing, including Hazing Prevention Week. Click here for more information on our Anti-Hazing Policy and more harm reduction initiatives.

Q: ​If I join one fraternity, can I join another one?  
A: ​If you get initiated with an IFC fraternity, you are not able to join another social fraternity. However, you can join an academic or service fraternity and still be in a social fraternity.  
Q: ​If I show up to all of someone's events, does that mean I will get a bid from them or that I have to join?  
A:​ Just because you show up to someone's events, does not mean that you will be extended a bid. But on the other hand, just because you go to someone's events and you do get a bid from them, you do not have to accept their bid.  

Q: ​My parents do not like the idea of fraternities and sororities, what can I tell them?  
A: ​One of the greatest arguments for joining a fraternity or sorority is that it satisfies the fundamental need to belong. Joining a fraternity or sorority will help to connect you to a group of peers with similar values. Feeling connected will make you more satisfied with your college experience and therefore more likely to succeed and graduate. The Fraternity and Sorority Life website and the chapter advisor and/or FSL staff are great resources to help address the concerns of your parents.
About
Want to learn more general information and history about the Interfraternity Council? Click here!
Get to know our executive officers: